Beginning of the Christmas season 2019 in Palma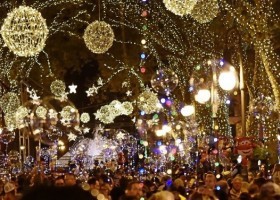 The Christmas lights will be traditionally turned on ceremonially on November 28th at 19:00 this year and the island will be lit up in Christmas light. Thousands of people are celebrating live on Borne Boulevard under the lights on facades and trees are inspiring the start of the pre-Christmas season. At the same time it is the eve of the discount day of the retail "Black Friday". The 29th of November is one of the best selling days of the year in Palma and measures the highest number of visitors. A usually in the city center, the most common passages and squares will provide a great atmosphere with music and entertainment.
Experience the different Christmas markets (Firas de Nadal) on the following dates:
21. - 23. November: Placa del Hospital, Palma
20. November - 07. Januar: Placa Major, Palma
23. - 24. November: Joan Miró 113, Palma
29. November - 07. Januar: Las Ramblas, Plaça d'Espanya, Palma Innenstadt
30. November - 01. Dezember: Playa de Palma, Arenal
01. Dezember: Carrer Riu Sil, Santa Ponca
14. Dezember: Marktplatz, Algaida
One of the most famous and beautiful Christmas markets awaits you in Pueblo Español from the 5th to the 15th of December. Experience all sorts of Christmas treats, mulled wine and live music in the fairytale village with artificial snow.
Developed by © THURM REAL ESTATE