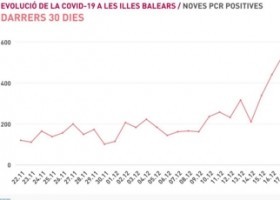 The increase in reported Corona cases amounts to 421 across the Balearic Islands, of which 390 cases in Mallorca. In the last few days the numbers on Mallorca have increased rapidly, so that 421 positive PCR tests were registered, 390 of them on Mallorca alone. The day before, the value of the positive tests was 328. An infected person infects an average of 1.61 other people. As soon as this R-value stays below 1.0 for a long time, the infection rate levels off.

After 3445 tests were carried out on the Balearic Islands and 1394 others on the following day, the result was a positive rate of 8.7 percent. An improvement of 0.82 percent on the previous day. The Balearic Islands recorded 450 deaths from the effects of Covid-19, five of them in recent days.

According to a message from the Ministry of Health, 6325 patients are currently being treated with Covid-19. On Mallorca, 286 people are in hospital treatment, 51 of them in the intensive care unit. There were also 182 corona cases among health workers. Currently, 140 residents of senior residences on the islands are known to be infected with Covid-19, 117 of whom are in hospital treatment. Since then, 31,333 Covid-19 cases have been reported on the islands. So far, the number of PCR and rapid tests is 734,010.

The incidence per 100,000 inhabitants for the Balearic Islands is 235.50. According to the Robert Koch Institute, the 7-day incidence in Germany is 197 cases per 100,000 inhabitants.

You can find an overview of the registered active corona cases in the respective communities on Mallorca here.

When entering Spain, in addition to the compulsory PCR test, you also have to fill out a form.