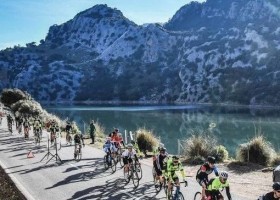 Upcomming Saturday, the 27th of April, the 10th annual cycling race "Mallorca 312" takes place on the island. In the Tramuntana Mountains a distance of 312 kilometers is provided, where there are 3 distances to choose from, 312, 225 or 167 kilometers. The race starts at 7:00 am at Hotel Viva Blue on Playa de Muro and ends there later.
The course goes through Soller, Valldemossa to Andratx and then leads via Inca, Manacor and Artà to the finish. With 8000 participants from all countries, including 2000 from Mallorca, the event was fully booked in just seven days. For cycling tourism in Mallorca, the event is of major importance, which means a high priority in the international cycling scene.
Between 7:00 am and 9:00 pm, various road closures must therefore be expected in the northern part of the island. Most of the blockages are one-sided, so that after passing through the participants, sections are released for traffic again. Last year, Belgian Rien Coertjens was the first to finish in the long distance after eight hours and 54 minutes.
You find further information on the topic here.