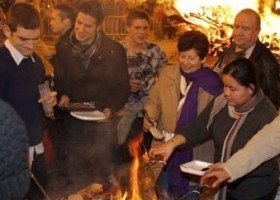 One of the most popular festivals in honor of Sant Sebastià, the patron saint of Palma de Mallorca, will take place at the beginning of next year without a communal barbecue due to the rising number of corona cases. The general public usually met the evening before, January 19th, to collectively hold the "torradas" in the streets.
Despite everything, the numerous offers, cultural activities, including concerts and photo competitions will be maintained. According to the head of the department for citizen participation, Alberto Jarabo, the ceremony will take place from January 16 to 24, 2021 despite restrictions, but strict security measures apply.
According to the city council, the announcement of the performing artists has not yet been made, but live broadcasts via streaming are intended so that the experience can also be followed from home.
Further information will be announced before Christmas.