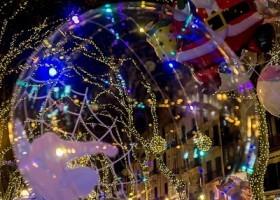 This year's Christmas program on Mallorca, which takes place from December to mid-January, is published exclusively in digital form (https://nadal2020palma.cat/programa-festes/). Irrespective of this, sporting performances, exhibitions and workshops will take place from time to time. Mayor José Hila reserves the right to make some changes to the program, but for example the arrival of the Three Wise Men on January 6th at the old pier in Palma will be broadcast exclusively via live streaming on the regional TV channel IB3. The reason for the visitor ban is the COVID-19 pandemic.

The Christmas atmosphere will take place in Palma, subject to the Corona restrictions, but in full splendor.

We have put together an overview of the Christmas markets on Mallorca for you, where the most beautiful stalls and their delicacies can be seen and you can comfortably enjoy buñuelos and mulled wine.



Christmas market in Santanyí (New)
From December 19th to January 6th:

This year the EastXmas Market takes place in Santanyí for the first time. Part of the income from Christmas trees sold will be donated to a good cause:

In cooperation with "Hope Mallorca", the income goes to families in need. With romantic Christmas stalls and a colorful stage program in a winter setting, Santa Claus will also be there on some days for joint photos for young and old on the (Carrer d'en Manuel de Falla , 12) be on site.

You can find information about the program here.




Christmas market in downtown Palma
Up to and including January 6th in (open from 10:00 a.m. to 9:00 p.m.):

In Palma you will find various stalls with all kinds of Christmas things this year on Plaça Major, Plaça d'Espanya and Ramblas.


Christmas market in Andratx
December 19th

Small but nice, the Christmas market starts on December 19 in Andratx from 10 a.m. With an extensive program of live music, children's workshops and various stands. From 6 pm there will be three concerts, which will end the Mercat de Nadal at 8 pm with the final concert of Los "Fabulosos Globetrotters".

You can find information about the program here.


Christmas market - Misericòrdia cultural center in Palma
On December 12th and 13th (from 10:30 a.m. to 7:30 p.m.)

At the so-called "Ratamarket" art market in the courtyard of the Misericòrdia cultural center, visitors this year can enjoy all kinds of art, decoration, jewelry, accessories and books at around 40 stands in addition to the usual Christmas business. It is worth getting to Plaça de l'hospital, 4 a little earlier, as the number of participants is limited to 300 people.

The complete program can be found here.




Christmas market in Arenal - Llucmajor
December 20th (from 4:00 p.m. to 8:00 p.m.)

The Plaça Mayor will be transformed into a stage set with live music along with Mallorcan Christmas delicacies.
Children can bring their wish-lists with them: the assistant to the three wise men (cartero real) will collect them there this year.




Christmas market in the municipality of Felanitx
From December 5th to January 5th

The municipality of Felanitx provides multifaceted Christmas markets every weekend in different places, from Felantitx to Cas Concos, Portocolom to s'Horta. In addition to the traditional Christmas program with a series of concerts, the little ones can also look forward to a variety of children's events at the festival.

Full details of the program can be found here.